NSF: E-reading app that supports science learning
DOE: Electron Optics for Ultrafast Electron Microscope
Ag: Educational software for rural schools serving English learners
NSF: Electronic Subconscious For Lifelong Learning
DOE: Electromagnetic Data-link for Geothermal Downhole Instruments
DHS: EMS Data Analytics in Real-time
NSF: Energy Efficient Vision Processing and Machine Learning Chips for the Internet of Things
HHS: Encouraging Learning Among Children with Visual Disabilities
NSF: Energy-Centric Mobile App Design
NSF: Energy Harvesting Environmental Sensors
Then assuming that at least one SBIR topic has been released with that key word you will see the abstracts for the topics on the right, and a list of filters on the left
When you hit enter the website will only search currently active SBIR topics. And odds are nothing will come back since SBIR topics are only active for a brief period so on the results screen select "Closed"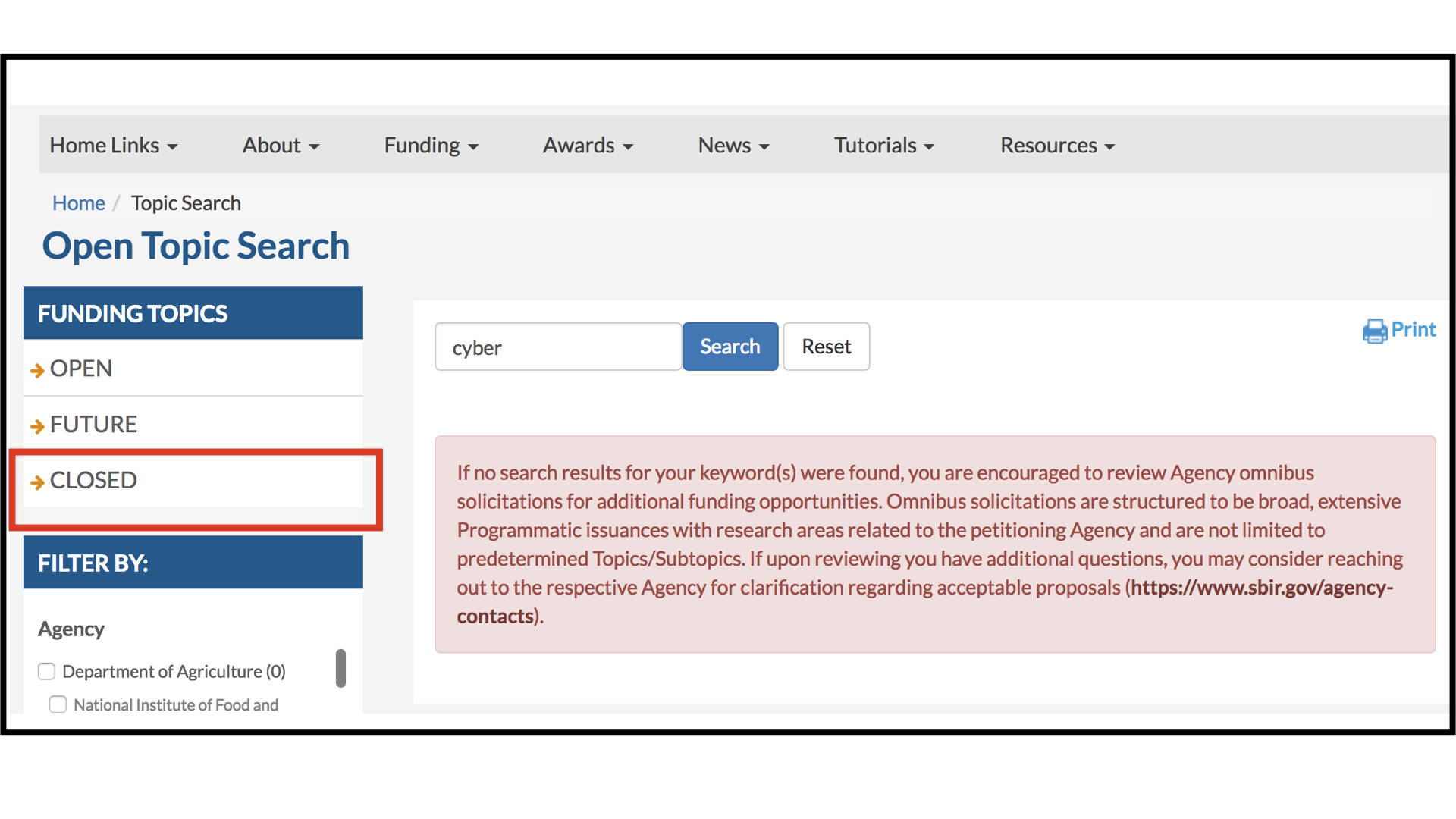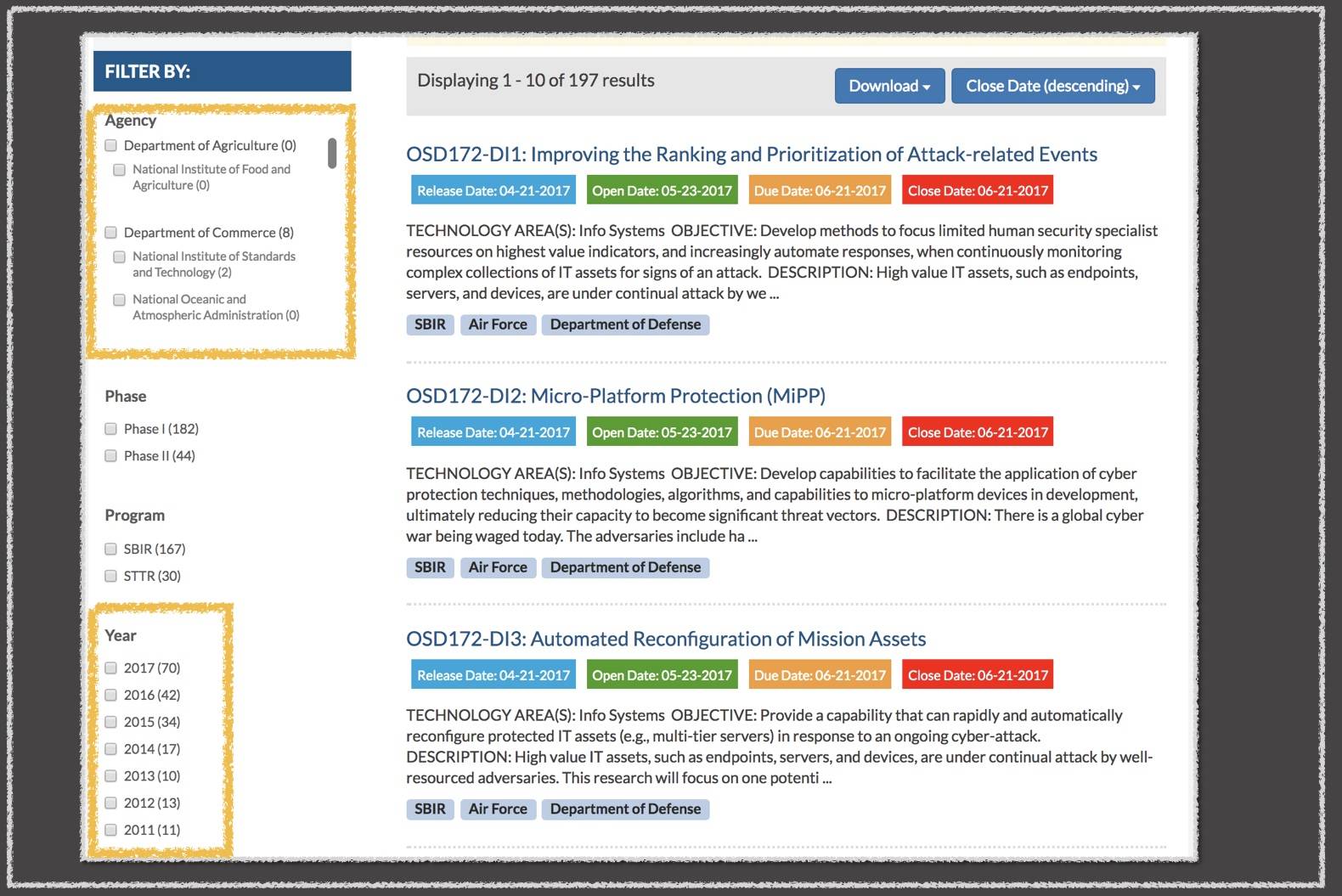 INTERPRETING AND PRIORITIZING THE RESULTS
The first area to look at is the Agency list. I'd start by selecting NSF, and then select the last couple years, then take a look at the topics on the right. If you see that topics are repeatedly coming up that are interesting to you then there is a pretty good chance that a similar topic will come out in the next cycle.
Next I'd look at the non-NSF agencies, so select those and the last couple years. The down side of these agencies is that because they are needs driven the past is much less of an indicator of the future than with NSF. However, you may see that there is a trend in the topics that you could apply to (e.g. at the moment there is a lot of interest in cyber, so you can be pretty sure there will be a couple cyber topics coming out of each agency, each cycle)
NOTE:   Whe you find topics that look promising make sure to engage the SBIR officer and discuss your idea. You may think your idea's a great fit, but make sure they think it is a great fit too. For more on engaging the SBIR officers see our class HERE
A QUICK RULE
One repeat SBIR winner gave us this little pearl: "Our process is pretty simple, my technical co-founder and I check all the agency SBIR topics each cycle and if we can't come up with a clever solution in about five minutes we pass. If we took an hour we could probably come up with something but somewhere out there there is a team that was able to come up with a solution in only five minutes and I don't want to compete against them."
AGENCY NOTES
DOD: DOD uses SBIR to develop new suppliers, so frequently they will give SBIRs to three different companies for the same topic and the one that has the best outcomes will get a big contract. On the one hand that is great, on the other hand it means that you need to be ready to fulfil a good sized contract fast
Commerce: Engineering Structures for Offshore Macroalgae Farming
DHS: Enhanced Blockchain Trust Services
NSF: ENHANCE CROP YIELDS AND RESISTANCE TO STRESSES
NSF: Enhanced Delivery of Medicines in the Body
HHS: Enhance Quality of Life for Disabled Patients
NSF: Enhancing Biomedical Training
NSF: Enhanced STEM Education via Virtual Reality Medical Simulation
NSF: Enhancing Stability of Natural Ingredients in Food and Beverages
HHS: Establishment Of Cancer Cell Lines For Advancing Ovarian Cancer Health Disparity Research
NSF: Enlisting Adult Mosquitoes to Combat Mosquito-Borne Diseases
Previous Class
Next Class
---